Pizza is one of the most popular foods in the United States. You can find it anywhere, in restaurants, fast food places, even in supermarkets, but have you tried making it at home?
In this post, will we tell you all about how to make a seafood pizza?. We'll start with what you'll need, some combinations of toppings, and then share our tips for making your own pizza taste amazing.
How to make seafood pizza at home?
Seafood pizza is one of our favorite dishes to make and it tastes amazing. With a few simple ingredients, you can make this dish at home in your own kitchen.
There are many types of pizza, but they all have the same three main ingredients: dough, sauce, and toppings.
The dough is the base of any pizza. It can be a thin crust or a thick crust depending on the taste of each person. This is usually followed by the sauce which is most often tomato sauce but also can be white sauce. Lastly, there are many different toppings for pizza which vary by person.
The best thing about making pizza at home is that you can create it to suit you. The size you want, with your favorite sauce and you can vary the flavors making the combination of toppings that you like the most.
Ingredients for delicious seafood pizza
Pizza dough: Flour type 00, water, sal, instant yeast. You can also buy pre-cooked pizza dough, but we recommend that you try making it yourself, it will be worth it.
Seafood pizza sauce: For a classic tomato sauce, prepares with tomato puree, tomato concentrate, or passata (as it is known in Italy), a clove of garlic, basil, salt, and pepper. You can also try seafood pizza with white sauce, for which used butter, milk, flour, garlic, salt, pepper, and parmesan cheese.
Toppings: the toppings will vary depending on your taste. Here are some great combinations.
---
3 amazing toppings combinations for your seafood pizza
Octopus, shrimp, and red onion. Seasoned with bay leaf, thyme, and garlic.
Mussels in the shell, shrimp, capers, and black olives. Seasoned with olive oil, lemon, and basil.
Tuna, green pepper, onion, and mushrooms. Seasoned with, olive oil and basil.
* All combinations have mozzarella cheese. And also you can make fish pizza with salmon, cod, etc.
---
Seafood pizza recipe
We start by making a dough from scratch, to do this in a bowl we place the flour, add a little water and begin to knead, after a while, add the instant yeast and continue kneading, little by little more water is added, salt is also added and we knead: a little water, knead, a little water, knead, and so on until it has become a compact mass.
It is passed to a table and continues to knead. At that point, you can knead for 3 minutes and let it rest for 3 minutes, repeating this 3 times, so you don't get so tired.
Once the dough looks compact and smooth, let it rest in the bowl covered with a cloth for 30 minutes, and then refrigerate it in the fridge for at least 22 hours. Yes, quite a long time, right? But the dough must ferment. In other words, you should plan this meal from one day to the next, if you want to eat an authentic Italian seafood pizza at home. (You can also let it rest for at least 2 hours if you don't have enough time.)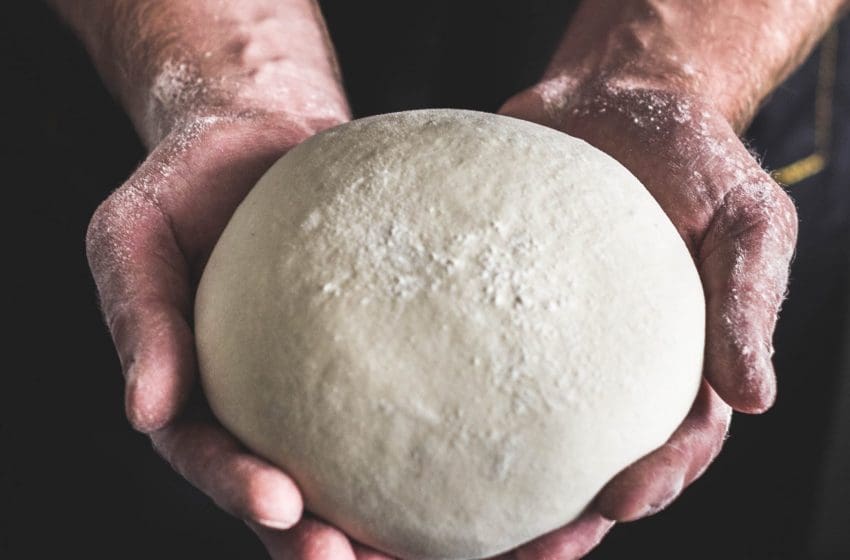 Keep in mind that the dough is going to grow, so refrigerate it in a container with enough space.
The next day, take the dough out of the fridge and leave it at room temperature for at least 1 hour. Before rolling out the dough, you should cut the dough according to the size of pizza you want. For an individual pizza, a 200g ball of dough works great.
---
How to make miniature seafood pizza?
If you want to make mini pizzas, then stretch out all the dough, and with the help of a round mold, cut the dough into small circles. Remove the circles, compact the dough, stretch it again and make more circles. This way you don't waste dough.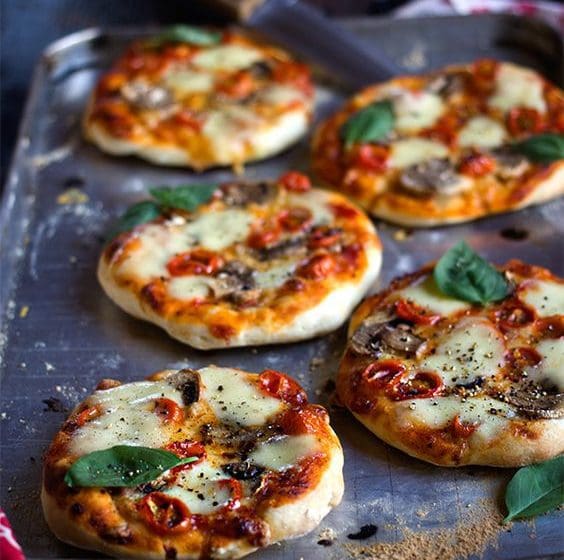 ---
For the pizza sauce, it's very simple, you just boil a little in a pot: passata, a clove of garlic, basil, a little parmesan, salt, and pepper.
You already have the pizza dough and sauce, just subtract the toppings. Wash and cut the ingredients you want for your seafood pizza. In the case of seafood, you must pre-cooking them.
And the funniest moment arrived! Assemble your homemade seafood pizza.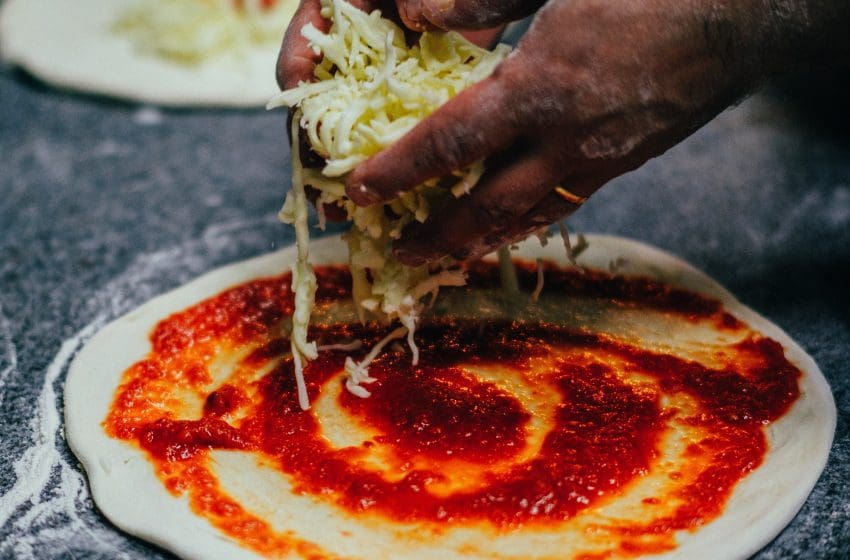 ---
How to layer pizza toppings?
To assemble a pizza, you must follow an order in the ingredients. Start with the base, the dough. Then spread the sauce over the dough leaving a 2-centimeter border. The next thing is the mozzarella cheese, and finally, the toppings that you want and a final touch of oregano.
---
Preheat the oven to 250 degrees at least 20 minutes before you put the pizza inside.
Roll out the dough, place it on the steel pizza pan or wooden paddle and cover the dough with sauce.
Once the oven is very hot, introduce the dough with the sauce into the oven base (as low as possible) for 6 minutes, then carefully remove it, and add the toppings, a spray of olive oil, and a touch of oregano, and again in the oven for 6 minutes.
The pizza is ready… so let's eat! Delicious and authentic seafood pizza.
What wine goes with pizza?
For those who prefer wine instead of beer, a sparkling rose will combine with any type of pizza, with its refreshing touch and fresh aroma, it will give a touch of elegance to your evening.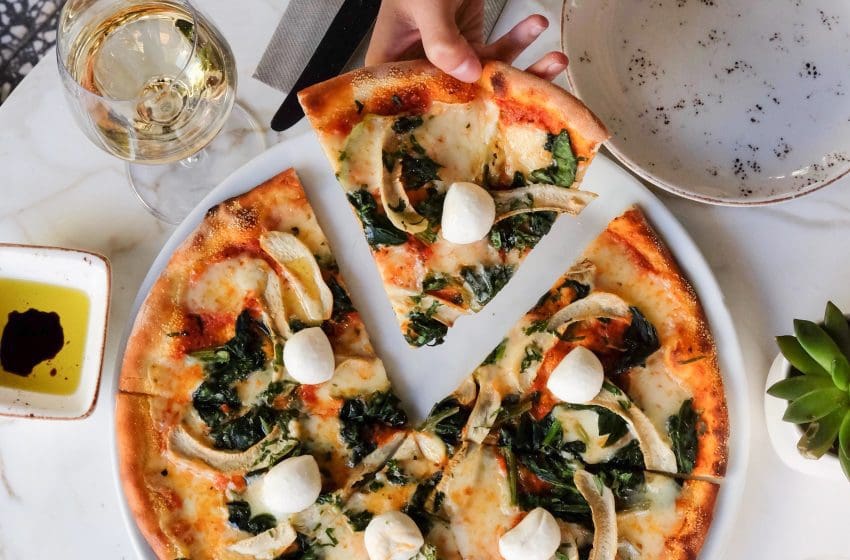 Also, you can combine your wine according to the type of pizza you are going to eat. For example, if it is a seafood pizza, a sparkling white wine would be perfect.
The last 7 tips for your seafood pizza
Make your own dough, it's easy and healthier.
Plan and take your time. The kneading is important, you will get a better finish from the dough if you take the time to do it well and if you let it rest for the recommended times.
Do not exceed with the sauce, it can make the dough watery.
Don't overload the pizza with too many toppings.
Pre-cook the seafood and be simple when seasoning it.
Preheat the oven and take the cooking time.
Enjoy the process and do it with love!