The complete guide: What is, how they work and which one is right for you.

What is a crab boiler?
A crab boiler is a pot that people use to cook any seafood, such as shrimp, lobster, crawfish, clams, and more. Crab boiler is typically made of stainless steel or aluminum and can be found in many shapes and sizes.
The crab boiler cooks food by boiling it in water. Traditionally, it involved having a large pot and boiling foods over high heat. Steaming has been popular for centuries as a nutritious way to prepare and preserve food.
If you've been considering purchasing a crab boiler for your home, this article is a good place to start.
A quick overview of the best 5 crab boilers in the market
Fresh seafood is a delight for many palates. However, preparing them at home can become very tedious. We will show you the best 5 crab boilers for truly exquisite seafood, the perfect tool to prepare a seafood dish at home in a simple way.
These kits are perfect for any outdoor cooking enthusiast who loves seafood! And the best part: sharing it with friends and family.
The Creole Feast SBK0801 Seafood Boiler Kit with strainer is a must-have for any outdoor cooking enthusiast. It is perfect for boiling crawfish, shrimp, crabs, and other seafood.
Features
Material: Aluminum.
Product dimensions: 24.61 x 20.28 x 33.07 in.
Capacity: 80 Qt. seafood boiler.
10PSI gas regulator.
High-powered jet burner 100.000 BT.
The Creole Feast SBK0801 Seafood Boiling Kit makes it easy to cook your favorite seafood dishes at home. Includes everything you need for cooking a seafood feast. It has an electric ignitor that provides a spark that will boil the water in a few minutes. Safety and convenience in only one button. With an all-welded steel frame and a dry hang to drain slot, this contraption can do wonders. Plus, the integrated lid assist will make things easy for you. To assemble is super easy, it will only take you about 15 minutes (one person). You will only need a screwdriver and an adjustable wrench. (Includes instructions
Pros
Electric ignitor.
Easy and quick assembly.
Heats up water fast.
Cons
AAA Batteries aren't included.
King Kooker Propane Outdoor Fry Boil will not only come in handy for your seafood feasts, but you'll also be able to air fry up to a 20lb turkey or fry fresh fish to a crispy golden brown.
Features 
Material: Aluminum.
Product dimensions: 13.38 x 13.38 x 27.5 in.
Capacity: 29 Qt.
5PSI gas regulator.
Jet burner 33,000 BTU.
The King Kooker has a 12″ tall welded steel frame and durable cast iron burner to provide powerful heat that lasts. Features a 29-quart Stockpot with lid, basket, lifting hook, and rack. 10 quart Skillet with heat resistant handle. Comes with LP hose with regulator, connection type 1. And to maintain control at all times, a thermometer to measure the temperature.
Pros
Multifunctional, boil, fry.
Includes various pieces.
Cons
It does not have a drain tap. At the end of frying, we want to pour the oil into a container to be able to dispose of it, this can be complicated when there is no drain tap.
Manual ignition, does not have electronic ignition.
One of the best parts of seafood is sharing it with friends and family. Creole Feast SBK1001 allows you to cook seafood quickly, easily, and share delicious results. This particular size of crab boiler is ideal for up to 15 people.
Features
Material: Aluminum.
Product dimensions: 21.46 x 21.46 x 34.65 in.
Capacity: 60 Qt. seafood boiler.
10PSI gas regulator.
High-powered jet burner 100.000 BTU.
The Creole Feast SBK1001 Seafood Boiling Kit saves you time and effort on seafood dishes preparation.
It has an easy electric ignitor that provides a spark to boil the water in only a few minutes. The safety and convenience of it all are down to one button.
With an all-welded steel frame and a dry hang to drain slot, this contraption can do wonders! In addition, the integrated lid assist makes things really easy for you.
You'll be able to assemble it within 15 minutes. You'll only need a screwdriver and an adjustable wrench. Instructions are included.
Pros
Perfect height for cooking.
Easy to assemble.
The 10 psi regulator is not powerful enough.
Cons
Non-adjustable gas regulator.
If you're looking to cook a huge amount of seafood at one time and want to be in control of everything, Creole Feast CFB1001A has the perfect solution for you. With its large stockpot and its high-power jet burner to make sure your food is cooked to perfection every time, this is the ideal product for cooking large meals.  All you need is a propane tank!
Features
Material: stainless steel.
Product dimensions: 62.99 x 36.22 x 37.8 in.
Capacity: 90 Qt. or 150 Qt. seafood boiler.
10PSI gas regulator.
High-powered jet burner 135.000 BTU.
This outdoor seafood boiler is the perfect tool for your next crawfish boil. It's fueled by propane and makes a really amazing meal. Stainless steel stirring paddle and fold-away front table are two more additions that make this machine a dream come true.
The hinged tilting basket is a great help when emptying and has a side-design handle that can be adjusted for two different height settings.
The collapsible mounting bracket is designed to organize the LP tank well and the tube holder makes it easy to hook up.
Pros
Comfortable.
Drain valve included.
Easy to clean.
Cons
It's a little Pricey.
Given the large capacity, the boiling time is increased.
With the use of a crab boiler pot, you can cook your favorite seafood dishes in minutes. The pot is made of stainless steel so it is resistant to rust, which makes it easy to clean up.
Features
Material: stainless steel.
Capacities: 52, 64, 84. or 100 Qt.
The crab pot includes a pot, strainer basket, lifting hook, steam insert rack and a divider to make your favorite, traditional and delicious homemade recipes.
These tools make your job easier when cooking seafood. How? We explain below.
Strainer basket with lifting hook.
The evenly distributed holes in the strainer basket
allow for faster and better filtration of water. The lifting hook makes it easier to take out the strainer basket and lets you filter water from any direction.
When moistening the food, the steam can be transported upwards through this middle tube. The steam will be sent from small holes in the tube to transfer the heat to top food, which will make the food evenly heated.
This divider is perfect for cooking 3 different dishes at the same time. You can also use it to keep foods upright, preventing any spills or messes on the countertop.
You can use these tools to cook your favorite and delicious seafood with just one touch.
Pros
Includes useful accessories.
Different sizes.
Cons
Does not include the base. It's just the pot and accessories.
How works a crab boiler?
Cooking seafood can be a pain in the neck, especially if you don't know how. What's more, if you do not have the correct kitchen utensils. Luckily, there are some easy solutions to cooking seafood that do not require fancy tools or a culinary degree.
The crab boiler is your new favorite kitchen appliance. It's perfect for a family dinner or for a party. You can cook crab, lobster, shrimp and any other seafood with this device. It is easy to use and the food always tastes amazing!
It's a simple process to make. All you have to do is add water in the boiled and let it boil. Once the water is boiling, you can introduce your crab, lobster, shrimp or whatever you want to cook. You can also add vegetables and seasonings to your seafood boil to taste.
The amount of time it takes to cook seafood in a boiler varies. Depending on the type of food, the size and quantity, as well as the degree of doneness desired, some fish can be cooked in as little as 20 minutes while others may take up to 40 minutes or longer.
Once it is ready, all that remain is to strain it, with the basket with holes it will be an easy task.
The only thing left to do is serve. The most typical way to serve this seafood feast is by spreading it directly on the table covered with paper.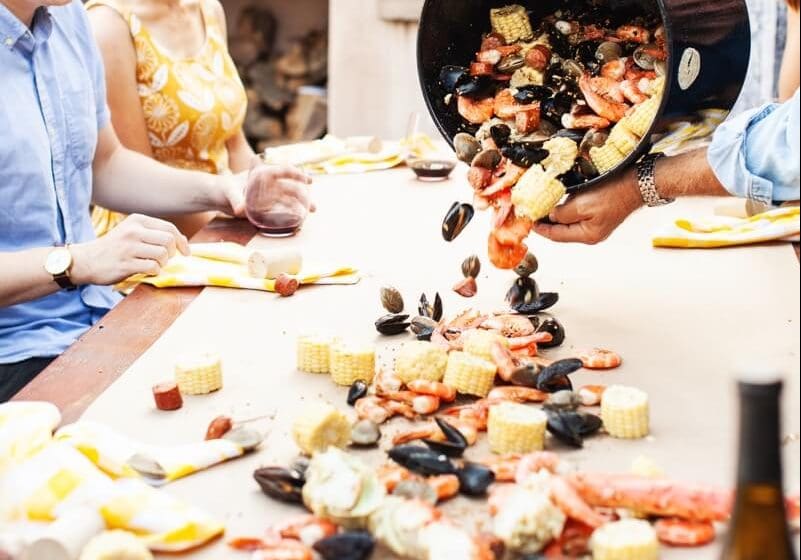 What to expect from using a crab boiler
Using a crab boiler can help you cook up some delicious recipes at home, take them to your next party, or surprise your friends and family with an extravagant meal! The advantages of using a seafood boiler kit are:
It is an efficient way to cook large quantities of food.
The seafood does not need to be prepped before cooking.
It is an easy way for cooking seafood at home.
How to choose the best crab boiler for your needs
There are many different types of crab boiler on the market, which can make it difficult to choose the right one for your needs. Examining some of the different features that you should consider when choosing a seafood boiler, will help you find the best crab boiler.
Some things to consider when choosing a seafood boiler include material, size and the price, of course.
When it comes to choose a boiler seafood, choosing the right material is key. If the water isn't boiling evenly, the food will be overcooked on one side. There are two types of materials: stainless steel and aluminum. Stainless steel is a better option because it won't react to high temperatures and create an acidic taste in the food.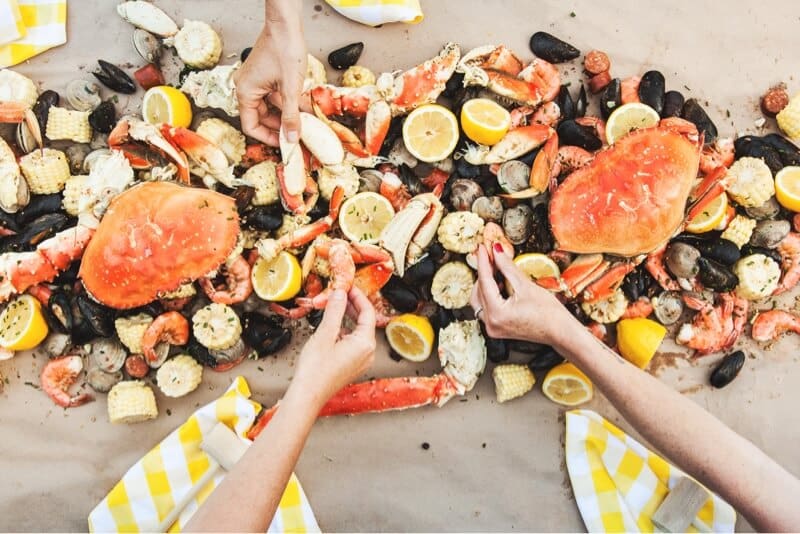 When you're getting ready to cook, it's important to consider how much you plan to cook at one time, because larger pots and pans will have more room for more food. If you are cooking for just one or two people, then a smaller pot would be fine; but if you are cooking for more than three people, then you will need to buy a larger pot with enough room in it to accommodate your needs.
Outdoor boilers are becoming more and more popular. Many people love this type of cooking, as it is much easier to cook a large quantity of food outdoors. This way you can also enjoy a pleasant afternoon on the terrace with friends and family.
After careful research. Which one should I buy? In our opinion…
If you still have doubts about which one to buy, we will help you a little more. The first thing you should think about is how much you can spend on this kitchen utensil and the second thing is how much use you are going to give it.
For lovers of seafood and gatherings with family and friends, without hesitation you should opt for the Creole Feast CFB1001A. Because it makes the job of cooking seafood easier, it is comfortable, large and will look good in your garden or wherever you put it.
Sale
Creole Feast CFB1001A
Material: stainless steel.
Product dimensions: 62.99 x 36.22 x 37.8 in.
Capacity: 90 Qt. or 150 Qt. seafood boiler.
10PSI gas regulator.
High-powered jet burner 135.000 BTU.
You would go for the Creole Feast SBK0801 or the Creole Feast SBK1001 if you are only going to use it sporadically, on some occasions to share with 6 or 15 people.
If you want to make different recipes, then your best option is the King Kooker. With this crab boiler, you can boil and fry your seafood, also, why not make a turkey for Thanksgiving dinner?
You already have the cooking base or you just want to cook at home, so you only need the pot. The ARC 52 QT Stainless Steel Stock Pot, in addition to the pot, includes some super useful tools that you will love.
These 5 crab boilers come highly recommended, so whatever you decide to do, you won't regret it.
Conclusion: You Should Definitely Buy One Crab Boiler Today!
We hope that this article has been informative and helpful to you.
We want you to know that buying a crab boiler is an excellent decision. This innovative cooking method will make all your seafood life easier! Fry, boil or steam the perfect meal in minutes.
What are you waiting for? Get your crab boiler today and treat yourself to a big, delicious seafood feast.
seafoodpeddler.com is a participant in the Amazon Associate program and will earn from qualifying purchases.